Tesla EV Pilot
Tesla Model 3 EV Pilot Project
In 2020, the Windham County Sheriff's Office endeavored to test an all-electric vehicle in a law enforcement setting in Vermont. This page is intended to serve as a resource for the public as we evaluate the vehicle, as well as a resource for other law enforcement agencies looking to use electric vehicles (EV) or other alternative energy vehicles in our applications. We will continue to update it during this pilot project.
Last updated: 07/27/2021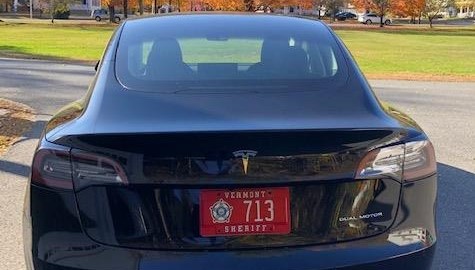 ---
Rationale
Background
Sheriff Mark Anderson had the opportunity to visit Norway in 2019 as part of an international training opportunity. During his time there, he was exposed to hybrid and EVs. This sparked his interest in the use of a hybrid or non-petroleum powered vehicle in a law enforcement context.
Replacements
The Office strives to replace vehicles as the economic life is depleted. This tends to fit an approximate 7-8 year life-cycle on a standard vehicle. The State of Vermont negotiates contracts with vendors wherein the state and its subdivisions may purchase at the negotiated rate.
Police Package Vehicles
When we talk about police package vehicles, its important to discuss what is different with them. They often come with increased braking capacity, suspension, and handling compared to standard models. They have interiors that are easily cleaned and sanitized (plastic & vinyl versus cloth). They have wiring prepared for installation of lights, sirens and radios. Finally, they have aftermarket equipment designed to be installed based on bolt patterns, layouts and designs.
Plan
The Windham County Sheriff's Office planned to purchase three vehicles during 3-4Q FY2019-2020:
2020 1/2 truck used to move equipment and enclosed trailers
2020 sedan/SUV used to patrol/transport prisoners
2020 sedan/SUV for an administrative vehicle
The truck was intended to be an addition to the fleet. The Office previously owned a 3/4 ton truck which was sold due to low usage/high cost of operation. The remaining two vehicles would rotate out vehicles that reached their economic end of life. One was a 2013 Ford Interceptor SUV with over 190,000 miles and required extensive repairs. The other was a 2008 Ford Crown Victoria (unknown mileage - broken instrument cluster) that required extensive repairs.
Pandemic
As a result of the COVID-19 pandemic and its impact on the United States in 2020, a contraction of global supply chains resulted in delays in purchasing vehicles designed for law enforcement agencies. As a result, the earliest anticipated delivery of any of our "normal" vehicles was 2021. Another effect of the pandemic was that funds intended for vehicle purchases were partially redistributed to support our response to COVID19. This caused us to examine different strategies for vehicle deployment.
Alternatives
Discussing possibilities of standard civilian package vehicles, we learned that the available supply was limited (like toilet paper). As we found comparable vehicles available, we found they were quickly purchased from dealers. We purchased a used Ford Taurus which satisfied our administrative vehicle purchase at a reduced cost from our plan. We applied for a grant to purchase the truck. We evaluated the transport vehicle which we intended to repurpose for patrol and extended its current use another year when we expected those types of vehicles to be available again.
We reviewed Tesla's website, which advertised a 4-6 week delivery from order. We began evaluating the cost aspect and researching if EVs were even used in a police context. We were familiar with agencies in Vermont and nationally using hybrid vehicles, but unaware of electric at that point. No state contract existed with Tesla for vehicle purchases.
Cost of a 2020 vehicle
Ford Interceptor base price: $35,458
Estimated manufacture upgrades: $5,000
Estimated cost not including upfitting or fees: $40,458
---
Tesla's in law enforcement
Research
A variety of agencies in the United States have deployed Tesla's in a police context. One document found suggests twelve agencies, though we became aware of that after our purchase. Through our initial an internet search, we found the Fremont CA Police Department purchased used Tesla Model S for patrol. We also found the Bargersville IN Police Department, which had photographs posted online of their Tesla Model 3 showing installation of law enforcement equipment and use in a patrol capacity.
Sheriff Anderson spoke with the Bargersville PD, asking questions about expenses, maintenance, upfitting, operation constraints, and more. Some of the critical takeaways from the initial conversation was: 1) the operating costs they experienced resembled the cost estimates we anticipated 2) charging infrastructure was a critical consideration in evaluating how they'd work for us.
We informally spoke with New England owners about their experiences with the cars. Rear-wheel drive was reported as problematic in snow. All wheel drive with snow tires was reported as usable. Some people told us they had no issues on Vermont roads, while others told us we wouldn't be breaking trails (but then again, we were told that about rear-wheel drive Crown Victorias which we inevitably broke trails with). We learned that the batteries were affected by the cold, by a reduction as much as half the distance of the battery, whiles others shared approximately 20% reduction as a result.
---
Sheriff's Tesla in Vermont
Fuel cost compared to gas cruiser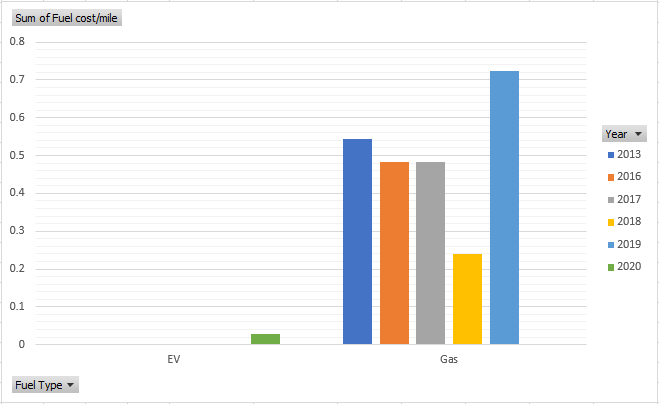 This graph shows the average cost of fuel divided by the mileage, based on the year the vehicle was manufactured. This is organized by Electric Vehicles (EV) and Internal Combustion Engine (ICE)/Gas powered cars.
2013: $0.54 per mile
2016: $0.48 per mile
2017: $0.48 per mile
2018: $0.24 per mile
2019: $0.72 per mile
2020 (EV): $0.02 per mile
2020 (ICE): Pending
Assumptions:1) An average cost of gas of $2.41 based on the AOT's Fuel Price Adjustment from 2015 to 2020) The mileage of a vehicle from 2015 to 2020 was the same each year 3) An average of 10MPG including idling, across each vehicle.
Acquisition
We ordered the Tesla Model 3 through the standard order process. Once we talked with a member of the sales team, we were directed to Tesla's Enterprise service through which the purchase process was completed. Because we obtained funding outside of Tesla, we were eligible for touch-free delivery or touch-free pickup. The vehicle was ordered on 08/04/2020 and we took possession on 10/14/2020.
Financing
While some enterprise finance options were available through third-party vendors, we opted to rely on local financing through Brattleboro Savings & Loan.
Model 3 base price: $35,000
Black paint: Black paint: $1,000
Long Range/Dual Motor (AWD): $11,990
Cost of Vehicle: $47,990
Fees: $1,300
Total Cost (no interest): $49,290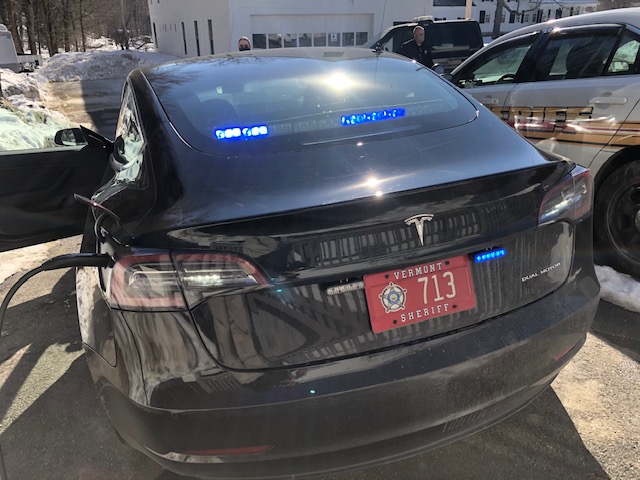 Upfitting
Our Tesla Model 3 was recently upfitted by Global Public Safety in Hudson NH. Because of the glass roof in the Model 3, a light bar was not possible. The vehicle has Whelen lights in the front windshield, front bumper and flashing in the fog lights. There is side lighting in the side windows. Finally, there is a rear deck light bar, license plate lights, and the brake/reverse flashing patterns.
The people at Global were sensitive to our desire to resell this vehicle. As such, they were able to install nearly everything without drilling holes into the vehicle.
We didn't install a mobile data terminal (i.e. in-car computer) because the Model 3 is capable of accessing our computer aided dispatch (CAD)/records management system itself.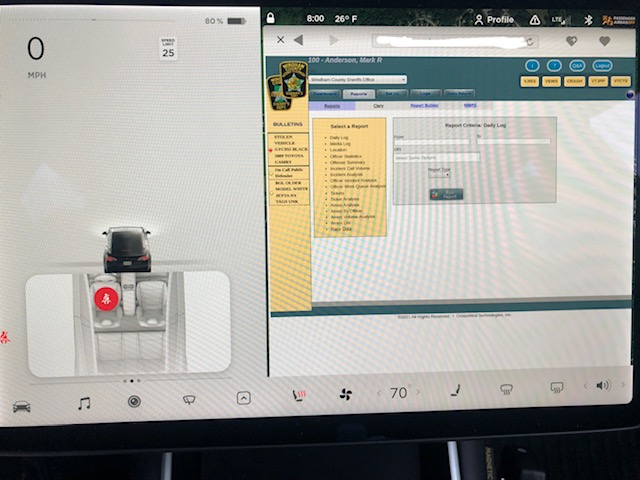 Infrastructure
We had a Level 2 charger installed at the WCSO by Tyler Electric in Brattleboro. There is a Tesla Supercharger located in Brattleboro that has been used to charge following long drives. The department has also implemented a system to reimburse staff for charging vehicles at their homes.
Policies and Training
Coming soon
Usage
The Model 3 has traveled over 8,000 miles during the time we've had it. It has been used only for administrative work and transportation. Now that it has communications and lights installed, we look to other types of work where the Model 3 can be implemented.
---